If you haven't gotten MaryJane's Outpost book yet, scurry over to
Amazon.com
and buy yourself a copy for $19.80 or go to
MaryJane's Website
and order one for $30. Why the price difference? The one you get from MaryJane is autographed! How cool is that?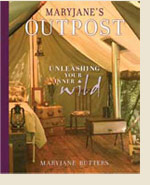 So after reading this gorgeous book, I felt like living inside all summer was just about going to kill me. I went out garage sale-ing yesterday with the intent not to buy something to make an outpost, but rather to find bookshelves and a dresser for Nora. Garage Sale after Garage Sale was disappointing. Everything was astronomically expensive and while I saw a few cool items- there was no way I was going to blow my whole $20 budget on one item. Nope. Not gonna do it.
I am sure there were some really great ones out there, but I was limited by only going to the ones that I could find. I still am only comfortable with about half of Billings. And the side street are a mystery to me. I had forgotten my computer so I couldn't mapquest them and I didn't have a city map.
So I see one that I know where it is, and it advertises that it is a day care going out of business- Lots of kid Items! YES! Sweet! Hold on Nora! Here we go!
So the first thing I notice when we get there is not the kid's toys, or the power tools, but a free standing hammock for sale for...$8!!!! The ONLY thing that is wrong with it is that it has some rips in the top fabric. I am a farmgirl! I can fix that!! So my next thought is...How am I going to get it home? Sure enough, it folds up and even come apart into 4 pieces!
So once Nora and I get home after buying her a temporary dresser and a few toys, I set up my new hammock. But it was missing something... So I stung a cross line to my clothes line, stringing up a spare sheet and this is what resulted!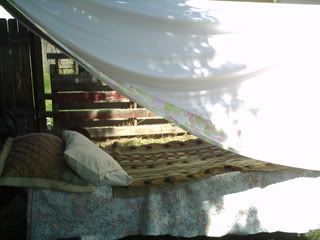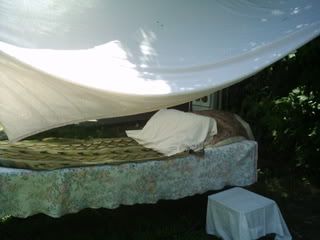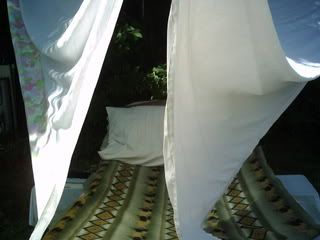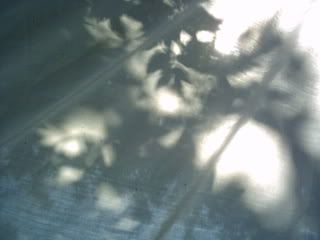 Isn't it great?! I even ran an extension cord out so I could talk with my friends on the
MaryJane's Farm Chat Forum